[Interview] Wraths: "We're not Pennywise number two"
Im Mai haben wir mit Wraths sprechen dürfen, dem neuen Projekt mit Pennywise Sänger Jim Lindberg. Er ist aber nicht der einzige Promi in der Band, denn mit dabei sind auch Chris Kranes (1208, The Darlings), Andrew Murphy (The Darlings)  und Steve McCall (1208). Mit letzterem haben wir ein spannendes Interview geführt. Das Interview gibt es auch hier zum Nachhören im Podcast.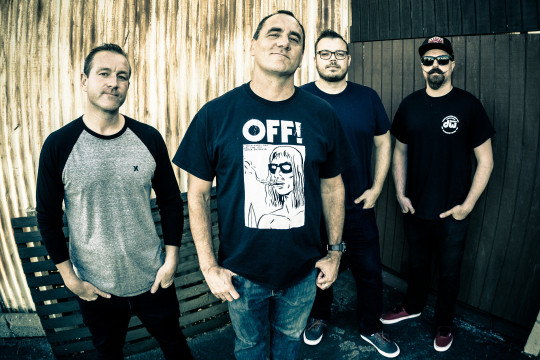 We've got Steve from Wraths here. How are you doing?
Very good. Thank you for your phone call.
I mean, right now I'm recording here at 10 PM. How's the weather in california? I think it's more earlier.
It looks rainy. It's 1 p.m. in the afternoon. I'm down by the ocean.
You are now here with a new project founded, Wraths, and you've got a very famous singer, Jim Lindberg from Pennywise, singing here. Is there something you want to make different in the new project Wraths?
Yeah, I kind of wanted to revisit music that influenced us. You know the old bands like Black Flag and the Descendents, Circle Jerks.
How did you guys know each other? I mean, you're a new band right now.
Well, we come from a really small town Hermosa Beach and, of course, he's in Pennywise. I was in the band called 1208, so both of us were on Epitaph Records.
Can you tell us something about the pre-story? You said something about Black Pacific and something like that.
In 2010, when Jim left Pennywise, he started a new band called [The] Black Pacific. So he needed band members and he called me and said "Hey, come down. Let's play". You know, that kind of rekindled… From that point on, we said "Let's start a band in the future".
Your record is out now. Let's play another song of it. What do you want?
I like that Song "Oh God".
Can you tell us a little bit about that song?
Well, Jim wrote the lyrics. It says "Oh God you want to see me on my knees". I like that line. I think it's maybe about how the world has become so shitty.
(Wraths - Oh God)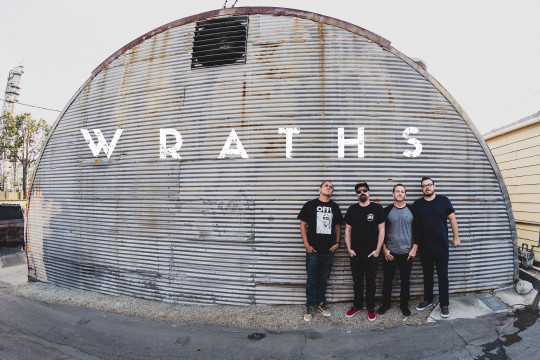 We're also interested about Wraths in Germany. Is there something planned?
Yeah. You know, I think we would be open to playing some festivals, if right maybe one week tour comes along. But yeah, all of us love Germany and one of my most favorite places in Europe to play. Nice people.
Why are they nice people?
I don't know. To be honest, I've been to Germany twice and… you know, I don't know. Everyone was just so nice and so appreciative of punk rock from California. It was nice.
I've experienced when I compare it to some videos I saw on YouTube from American shows, […] that people in Europe seem to be more enthusiastic somehow. Is that true?
I agree with you 100%. I think people in Europe have better taste for music.
I think we should play the Black Flag cover you did, which I really like. Can you give a short introduction?
Great song by Black Flag with my favorite singer Keith Morris so here's our cover of Fix Me.
(Wraths - Fix Me)

Just to say, I think the guitar sound is very unique on your new record, because you put echoes and stuff like that [on it]. Is that something you wanted to do?
Yeah, you know. I love bands like Killing Joke and Sisters of Mercy and The Cure and Nirvana and TSOL. I just love their sound so I wanted to take parts of that make it into my own.
And I think it's very important also to to draw the line between Wraths and Pennywise, so I think that's maybe one of the reasons like you said before.
Yeah, I wanted to do that as much as possible because there's no point in having us be Pennywise number two.
Thanks for the interview, Steve! Is that something you want to say to our listeners? Maybe also important: Can we get to record someone out here in Germany because it's just available here in America as far as I've seen?
First of all, thank you so much for your support and thank you for German fans for being so punk rock and I will make sure that we can ship CDs and vinyl to Germany because it would be really great for everyone, if you could get your hands on that record. We're very proud of it.
---
Vielen Dank an Steve McCall für dieses Interview. Das Album vom Wraths könnt ihr auf Bandcamp hören und kaufen.
Interviewer: Stephan Wiefling (Hier ist sein Twitter-Account)
Pedal To The Metal gibt es auch auf Facebook oder Twitter. Schaut doch mal vorbei.