[Interview] Edsel Dope on Kids, Violence and Guantanamo
Die NuMetal Band Dope ist bereits seit zwei Dekaden aktiv und hat schon viel erreicht. Leider auch das Gerücht, dass einige ihrer Hits zu Folterzwecken in Guantanamo Bay verwendet worden sein sollen.
Was die Band davon hält, könnt ihr hier im Interview nachlesen. Einen Monat vor Release des langerwarteten Albums Blood Money Part 1 haben wir ein intensives Gespräch mit Sänger Edsel Dope geführt.
Das gesamte Interview gibt es auch hier zum Nachhören im Pedal To The Metal Podcast.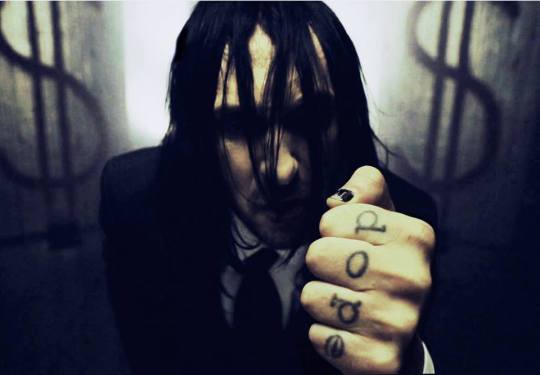 Hello everybody. Pedal To The Metal here with the wiefman and we've got Edsel Dope here on the phone. How are you guys doing?
I'm good man how are you
I'm fine it's cool to have you here on the phone I mean Germany's far far away
It is. Very far away. I appreciate the interest from so far away.
You also got a German label, don't you?
Yeah, we have a European label called SPV.
I had to go over the American way [for the interview] because… I don't know… the German label doesn't promote your record here. I've got the impression at least right now.
Yeah well. I think that'll start up here pretty soon. We kind of made the deal late, so they're a little late to the party. But I think it's gonna all work out, okay?
You're now on tour, so what's the impression so far? I mean it's been a long time since Dope has played in that lineup.
You know, it's kind of the same old same signal for me. I mean it's exciting to play with some of the guys that I haven't played with in many years but… You know… this band's lineup is much like a fraternity. We're all friends and I had a different line up for every single album, so it's cool, you know, when I get to hang out and play with some of the guys that I may not have played with in the recent past. But […] for me the band […] has continued on for years and years and continue to put out albums and continue to tour and everything else that goes along with it, so… the only thing that really changes for me is maybe some of the song selections and you know the jokes (laughs) …and it's a comradery.
…(laughs) What kind of jokes?
Yeah man, […] when you get a different group of people together, that all played together some time ago, there's different jokes and there's different stories and different memories. So it kind of picks back up like, you know, where you left off, so it's a lot of fun for sure.
So what kind of jokes, for example, to get an impression?
Oh I don't think, man. You know how it is. Like if you hang out with your high school buddies you have your own little inside jokes in your own language words. If you hang out with your college buddies you have different inside jokes in different language, so… you know… it's just a different group of friends that communicate slightly differen. I don't really know any specific examples but we're just… you know… it's the different click, it was a lot of fun.
Yeah sure. I know what you mean and you're all so far away from home, maybe from your family […] How's that for you?
Again. Same thing, like I'm used to this. You know, we've toured so much in the 15 years that I've had this band that… You know, I'm used to this. It's all good. This is what we do. We go on tour and play shows and […] travel from city to city and it's just a part of what we do. Another day at the office.
Yeah and what does your family say about that? Or are they on tour?
No, […] families don't tour with us. But again: It's like, this is what I've always done, so it's nothing new. It's just part of what we do.
Yes sure. What I've seen on Instagram is that you also got a kid. What does your kid say about the music you do?
No, I don't have any kids. I have a nephew, who is 4 years old, but I don't have any children on my own. My nephew… you know… he's still four, so all he knows is that I play rock and roll, but he doesn't understand the lifestyle or anything yet, but it's all good.
So don't you want to show him the music?
Yeah man, he listens to the music in the car. You know, there's certain songs that have the right subject matter that he gets to listen to and dance around and have fun with it, but I don't bring him out the shoes yet. [I] feel like he's still a little too young for all that.
Yeah, when he sees all that t***ies going around.
Yeah exactly. Not ready for that yet.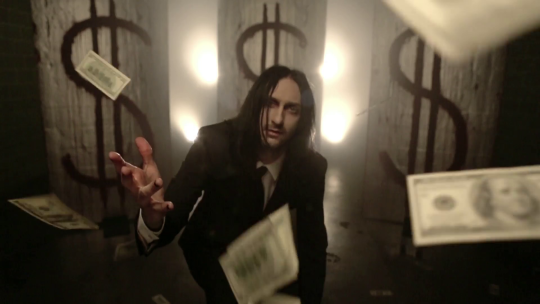 (Foto: Screenshot aus dem Musikvideo zu "Blood Money")

Your tour is also called "Die Motherfucker Die Reunion Tour" - and this is one of the songs also with Take Your Best Shot which is one of the… […] There was a "hit" list published online which were songs played in Guantanamo for torture. What's the opinion on being on such a list?
You know, I don't have much of an opinion on it. It's one of those things that you never expected to happen. You know, I don't even know how true it is, who knows. But it's an interesting tidbit. I know that, you know, our music… that album came out […] shortly after the World Trade Center fell, so there's definitely a connection between some of those songs like Die Motherfucker Die, Take Your Best Shot and a lot of the American soldiers that went over and fought. So there's definitely a connection between us and the US military…you know… Every day I feel like I meet somebody new who is in the armed forces that, you know, use those songs as some form of inspiration for survival […] so there's a definite interesting connection there, but as far as the Guantanamo stuff… I don't know. It's so beyond my touch or understanding that all I can do is kind of just shrug and say "Well, never thought that I would affect anything on that magnitude". Hopefully it's for a good cause but it's a tough one for me to really put my finger on.
Yeah it's a very tough topic, so let's talk about your new record, which will be out on October 28th. At least for me as a German the video you put up for Blood Money is very violent, very graphic, so is there also a connection of violence and [the band] Dope?
I don't know […]. I think it's a tough word again. It's Art, man and it's an expression of Art and lyrically what the song's about, I feel like the video embraces very well. You know, it's also like anything: This is show business and it's supposed to be entertaining. It's an aggressive sure. Is there an element violence to it: sure. Is it perpetuating violence: I don't think so. I just think that it's an expression of Art and visual art and […] it certainly represents what I think the energy and lifestyle of the band is and I think a lot of people identified with that and that's good, 'cause that's what the intention was. You know, we play very aggressive music. We even have a song called Violence, but I don't think that it perpetuates violence. I think it perpetuates just the release of emotion and whatever that emotion is. But I wouldn't overthink it.
You also care a lot about putting out videos and stuff like. I've read, you've also got a lot of videos planned [author's note: for the Songs 1999, Drug Music, A New Low, and Violet], so I think you very care about your art.
Yeah, no question about it. The visual art is very important to me. I always feel like I've gone above and beyond to make sure that the visual elements are very strong. I think that […] musical art is not just about the songs and the music, but also about the visual expression that goes along with it. At least for me, so that's my opinion on it for sure.
Was that also one of the reason[s], why the album was delayed for one and a half years, because you're more a perfectionist about your art?
No, it was more just, you know, timing personal stuff that I had going on in my life. I thought schedule-wise things were going to work out sooner for me, to be able to commit to the touring and the release of the album. And then some things happen and I had some other things I had to take care of and then I ended up moving across the country and that, you know, took some time. Just priorities, you know, I just needed to make sure that everything was right and time was right. You know, that Blood Money music video had done gone for quite some time. It's just a matter of my schedule and […] my personal agendas all lining up to be able to give the record the proper attention when I was ready to launch.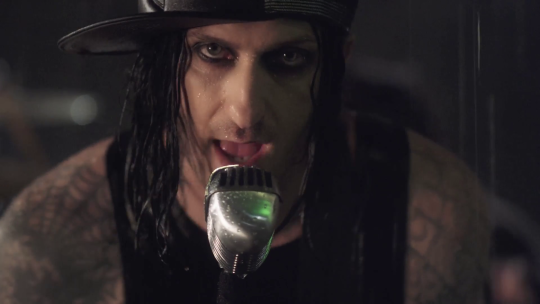 (Foto: Screenshot aus dem Musikvideo zu "Hold On")
It also takes a lot of time 'til it will be launched for everyone, so it will be October 28th. What are your expectations on people reacting to it?
I don't really have any. I think I do what I do and I hope that people that like the band like it, but I do what I feel. I write as an artist the music that represents what I feel and what's happening in my life. I feel like that's what I'm supposed to do. Hopefully the world can relate and have some of the same feelings that I do in the music serves a purpose for them, but I really have no expectations. I'm gonna do what we do. I'll release the album, then we'll play some shows and we'll have a good time and hopefully people like the album and listen to it and share with their friends and more and more people hear it. That's it, it's all good.
1999 is not a prince cover, as we've figure out. What's it about?
It is just sort of a reference to… you know… the band came out in 1999. Our first album was released in 1999. It was a very hectic time for me as an artist, because I was, you know, new and very young and very aggressive. [At] the same time the world was in a very interesting spot, especially America with everybody wondering what was going to happen at the turn of the century and whether it was going to be the end of the world and everything else that happened with that. And I think it's just an expression of reflecting back on 1999 and the beginning of my career and what eventually everyone thought was going to be the end of the world.
Yeah, and you also got a major deal then and… high, very expensive videos produced. So a lot of that happened in 1999.
Yeah, no doubt. It was a big year for the band and a crazy year for America.
And now you're just doing indie, so I think it's more the easier way. I mean, most of the bands are doing it right now and I think you've even got more creative freedom. Isn't it?
Yeah. I mean, I have always been fortunate to have a great deal of creative freedom, because I've always been the main producer of records and directed the music videos and everything that goes along with that. You know, America is a very fickle market and it very much rides with the trends. Very few bands remain on major labels for more than two or three or four albums, because America cycles through the trends so fast, that the major labels need you to be a gigantic band in order for them to keep you. You know, bands like Disturbed or bands like Linkin Park will remain on major labels through the course of their career, but, you know, the smaller bands, they don't last as long, because if they're not part of the trend anymore. So it's really the same difference for me. Really again, like I feel so in control of the band and so in control of the sound and what I do that it really doesn't make a difference. I enjoy the support of a label, but in this day and age it's kind of a such a crazy time that… You know, I'm not sure that you need but the big labels anymore, but the more support that I can get to create awareness, I'm happy to have it.
We're happy that you're touring right now. [There's] at least one small stop in Europe which is in the UK. What about Germany soon?
[We] would love to get to Germany. We wanted to come there for a very long time. It just hasn't added up yet, so hopefully next year will be able to make that happen. We would love to play your big festivals, if I'm not mistaken Bloodstock is one of your big German festivals, that we've been trying to be a part of for a long time so… believe me: When the phone rings and they asked us to come play one of your big German festivals we will be super excited and happy to do it.
Hopefully it will happen. I mean, you've got to German label so maybe some things will work out […]
Yeah, we're working on it. We definitely want it, for whatever that's worth, we would love to do it. Just like we go to Russia, with that great experience in Russia, great experience in the Ukraine, great experience in the United Kingdom, Germany is one step away from all that so we're very excited and looking forward to coming there and doing it at some point soon.
The Russia tour was also something very big so you also did live record about it and the people were going nuts in my opinion.
Yeah, it was phenomenal. It was absolutely phenomenal.
Was that something you expected. I mean it's far away from America.
Well, the first time we went there, I was very surprised. We've been there now every year for the last three years and we're about to go back for a fourth time, so I'm not surprised anymore. But the first time that we went, I was very surprised how big we were over there, how many people knew the songs and how much the music had connected that was very exciting. When we went to do the live record in Russia that was our third time there, so I knew that that the crowd was going to be great and that it was going to make a great background for the live record, which is one of the reasons that I chose to do it there so it all worked out really great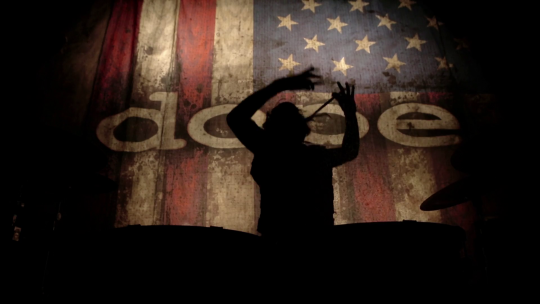 (Foto: Screenshot aus dem Musikvideo zu "Blood Money")

Thanks for the interview. Is there something you want to say to our listeners?
No, just: Thanks for sticking by the band after all these years and, you know, let anybody know that you want to see the band. As far as if there's any polls you can vote on for Bloodstock or any of those festivals just keep saying the name Dope, because we would love to come and be part of those German festivals. It's not because we don't want to. It's just because we haven't had the right opportunity, so make your voice heard and do what you can to spread the word that you're excited about Dope and Dope coming to play Germany and we will be there as fast as we can.
Thanks a lot, Edsel.
Thank you, buddy. I appreciate your time.
---
Vielen Dank an Edsel Dope für das Interview. Das Album Blood Money Part 1 ist im Netz und auch in den Plattenläden zu finden.
Interviewer: Stephan Wiefling (schreibt ihm auf Twitter)

Offensichtlich gefällt dir hier, was du liest. Supportet uns gerne auf Facebook, Twitter, schreibt uns eine Mail oder abonniert den Podcast für weitere Interviews und Konzertmitschnitte. Die Radiosendung läuft jeden Donnerstag ab 20 Uhr auf ShoutedFM mth.Alternative.